Inspired by animal locomotion control, we propose simple yet versatile modular neural control with fast learning for legged robots. This control approach is scalable, analyzable, and robust against sensory faults, and its learning process is faster than state-of-the-art locomotion controllers. Using this approach, a hexapod robot can adaptively climb steps and between two walls, as well as walk on a pipe, through a narrow space, and over uneven terrain. The approach will be used as a basis for autonomous lifelong learning for versatile robot skill acquisition (video). For more details, see Thor, M., Manoonpong P. Nature Machine Intelligence, https://doi.org/10.1038/s42256-022-00444-0, 2022
2010:
Neural chaos control*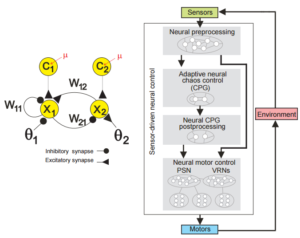 We develop a chaotic pattern generator based on a two-neurons system and applied it to control our hexapod robot AMOS. Employing this single chaotic pattern generator, we can achieve 11 basic behavioural patterns (for example, orienting, taxis, self-protection and various gaits) and their combinations for AMOS. These complex behaviors allow AMOS  to successfully navigate through a complex environment. Moreover, using this controller the robot can not only react to environmental stimuli but also learn to find its behaviourally useful motor responses for different situations. Besides this,  we also extended this control to six chaotic pattern generators, each of which controls each legs of the robot. By doing so, the robot can maintain the body balance and compensate for leg damage. Thus, such a neural control mechanism provides a powerful yet simple way to self-organize versatile behaviours in autonomous agents with many degrees of freedom. For more details, see  Steingrube et al., Nature Physics, 2010.
Past:
Modular neural control*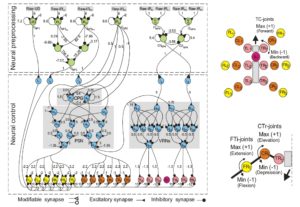 We develop the modular neural controller of the walking machines is modeled with an artificial neural network using discrete-time dynamics. Part of it is developed by realizing dynamical properties of recurrent neural networks. The controller is designed as a modular structure composed of two main modules: the modular neural control and the neural sensory preprocessing networks. The modular neural control, based on a CPG, generates omnidirectional walking and drives the reflex behavior while the neural preprocessing networks filter sensory noise as well as shape the sensory data for activating an appropriate reactive behavior, e.g., a self-protective reflex, escape behavior, and obstacle avoidance behavior. The presented neuromodules are small so that their structure-function relationship can be analysed. The complete controller is general in the sense that it can be easily adapted to different types of even-legged walking machines without changing its internal structure and parameters. For more details, see Manoonpong et al., RAS, 2008, Manoonpong et al., IJRR, 2007.